Cool VINTAGE STEEL Medical Institutional CABINET 33 x 20 x 16 ASYLUM FRESH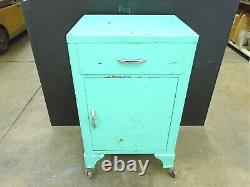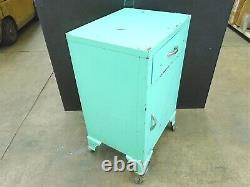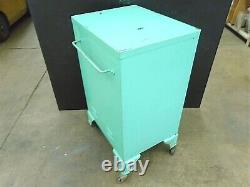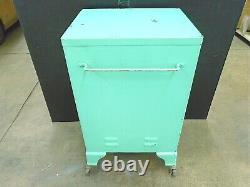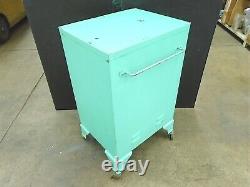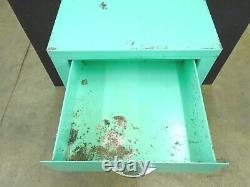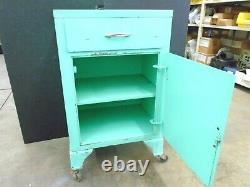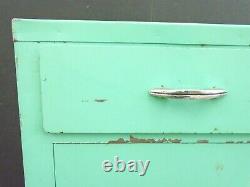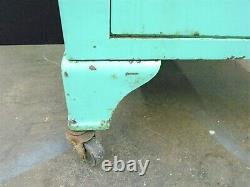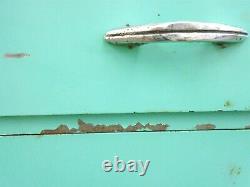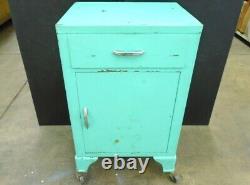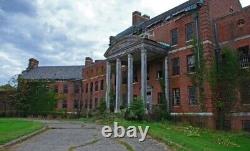 Norristown Hospital, Origanlly know as State Lunatic Hospital at Norristown. 33" x 20" x 16. Cool VINTAGE STEEL Medical Institutional CABINET 33 x 20 x 16 - ASYLUM FRESH! MORE AVAILABLE, CHECK OUR LISTINGS FOR OTHER COLORS.
How cool are these medical apothecary cabinets. They would make a great end table, night stand, work station, kitchen cabinet, the uses are endless and only limited by your imagination. These cabinets are not perfect, they have a few scratches, chips, or dings. We like stuff to not be perfect in our world, we call that character, or patina. You can't fake that stuff, it only comes with a lot of time, use and history. They each have there own story to tell. However, if you like your stuff a little more refined, or refurbished, they would make a great project. The cabinets are heavy duty, weigh nearly 60 lbs.
And come on wheels that can be replaced, or removed to make stationary. They have a single drawer, and single shelf.
They are made of painted steel, and come in a couple similar variations, and colors. So, if you're interested in the yellow, or maybe seeing a little different, but similar style, mark us in your favorites, and check back often We were fortunate to be granted some of the salvage rights to a real piece of history at Norristown State Hospital.
The hospital has a lot of history dating back to the late 1800's. It was both famous, and infamous for many reasons. Below is a short read about some of the cooler things it was know for, like the first Female Chief Physician. A little History About The Hospital Norristown State Hospital, originally known as the State Lunatic Hospital at Norristown, is an active state-funded psychiatric hospital located outside the city of Philadelphia in suburban Norristown, Pennsylvania. It was originally designed between 1878 and 1880, by the local firm of Wilson Brothers & Company; of which, the original structure was set in a red brick Victorian High Gothic motif.
It remains active for its originally clinical intention, and currently serving Bucks County, Chester County, Delaware County, Montgomery County and Philadelphia County, providing clinical services in General Psychiatry and Forensic Psychiatry. Additionally, there are various agencies that sublet state hospital buildings for a variety of psychiatric, residential and social services. A Really Cool TidBit of History First Female Chief Physician Norristown State Hospital piloted a different type of administrative hierarchy for hospitals, wherein female patients would be treated exclusively by a female physician. To run this new medical department, they appointed Dr.
Alice Bennett to govern over the medical and psychiatric affairs of the new hospital. Bennett obtained her MD in 1876 from the Women's Medical College of Pennsylvania, where she was later an anatomy instructor until accepting this post at Norristown. She was also awarded a PhD from the University of Pennsylvania in 1880, the first woman in any discipline to achieve this honor. Bennett was also noted for being politically tied to Susan B.
Anthony, whom she corresponded with, and to the early Women's Suffrage movement. Prior to her appointment as Chief Physician, and the completion of her medical education, Dr. Bennett had joined with other clinicians to help found the National Conference of Charities and Corrections in 1874. During her tenure at the state hospital, she championed several reforms to clinical practice.
Paramount to these reforms was the removal of physical and mechanical restraints, which had previously been employed to detain patients. For the year 1895, Dr. Bennett reported that no restraints had been employed by hospital orderlies and no suicides had been committed by the inpatient population. As a matter of therapeutic modality, Dr. Bennett offered a variety of treatments for addressing the ailments of her patients, including: diet, bathing, topical blood letting, stimulants (alcohol), digitalis, opium, chloral, ergot, tonics, and potassium bromide.
Bennett briefly gained notoriety through her clinical research into various illnesses, most notably Bright's disease (now known as chronic Nephritis). Would later resign from the hospital in 1896 over an ethical controversy that surrounded her following her assertion that insanity could be cured through an ovariectomy (removal of the ovaries). Following this professional issue, she did not practice medicine again until 1910. MD Architectural Rescue has an ever changing collection of collectibles, petroliana, architectural and industrial artifacts, surplus, antiques, unusual decorative objects, new old stock, vintage automotive, re-purposed and rescued items. We specialize in reclamation, re-purposing and sales of these items. Mark us in your favorites and check back often. You may choose at check out. For a quote please message us and provide us your. Whether it's a business or residence. If a business does it have a fork lift or dock. Millersville MD off of Veterans HWY for most items, and in our storage warehouse in West Baltimore for our larger heavier items. Once the sale is complete we will certainly give you our exact address for local pick-up purposes but, it needs to be scheduled. If for any reason you are unhappy with your.
Md Architectural Rescue is a different type of recycling company. And surrounding areas since 1996. After starting out rescuing fireplace mantles and cast iron door locks from construction dumpsters, we have opened our eyes to may types of waste that are often over looked and fall through the cracks. Our focus is and always will be vintage items of the highest quality. But with our eyes now open we put a lot of effort in bringing you high end collectibles from every industry available and at a very reasonable price.
All our items are salvaged and are for the most part American Made. One week we could be in an old School, Brewery, Factory, and the following week at a Shipyard or Power plant, you just never know. Also, one day we may be removing Vintage lighting, the next day Signs and Vintage blueprints and the following day cleaning out a machine shop or high end parts room. We also run two additional stores. If you are looking for unique and interesting glass pieces, check out our sister site.
If you are looking for, or are in need of and industrial parts and supplies, check out our other sister site. And as always, you can check out more of my interesting finds here at.
To check out my store.